Tire tread
WARNING
Although the applicable federal motor vehicle safety laws consider a tire to be worn when the tread wear indicators (TWI) become visible at approximately 1/16 in (1.6 mm), we recommend that you do not allow your tires to wear down to that level. As tread depth approaches 1/8 in (3 mm), the adhesion properties on a wet road are sharply reduced.
Depending upon the weather and/or road surface (conditions), the tire traction varies widely.
Do not use tires that are excessively worn as the tire traction on wet road surfaces decreases significantly when the tread depth is less than 1/8 inch (3 mm).
Tread wear indicators (TWI) are required by law. Six indicators are positioned on the tire tread. They become visible as soon as a tread depth of approximately 1/16 inch (1.6 mm) has been reached. If this is the case, the tire is so worn that it must be replaced.
The recommended tread depth for summer tires is at least 1/8 inch (3 mm). The recommended tread depth for winter tires is at least 1/6 inch (4 mm).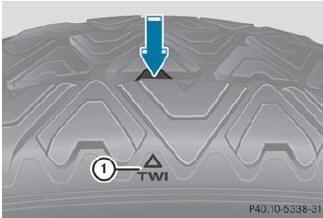 Bar marking 1 for tread wear is integrated into the tire tread.
See also:
Stowage well under the cargo compartment floor
A removable insert under the trunk floor contains the parts of the EASY-PACK loadsecuring kit. The tire-change tool kit is stored beneath this insert. – To open: open the tailgate. – Holdi ...
Checklist after driving off-road
WARNING If you notice sudden significant vibrations or unusual handling performance or if you suspect that damage has occurred to the vehicle, you should activate the hazard warning lamps, g ...
Transfer case
This section is only valid for vehicles with 4-wheel drive (4MATIC). Power is always transmitted to both axles. Performance tests may only be carried out on a 2-axle dynamometer. The brake ...