Maximum tire pressure
WARNING
Never exceed the maximum tire inflation pressure. Follow recommended tire inflation pressures.
Do not underinflate tires. Underinflated tires wear excessively and/or unevenly, adversely affect handling and fuel economy, and are more likely to fail from being overheated.
Do not overinflate tires. Overinflated tires can adversely affect handling and ride comfort, wear unevenly, increase stopping distance, and result in sudden deflation (blowout) because they are more likely to become punctured or damaged by road debris, potholes etc.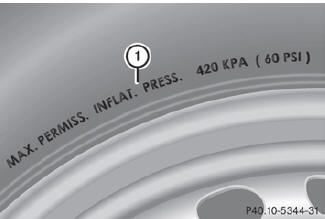 1 Maximum permitted tire pressure (example)

The actual values for tires are specific to each vehicle and may deviate from the values in the illustration.
When adjusting the tire pressures always observe the recommended tire pressure for your vehicle.
See also:
Cleaning the display
Before cleaning the display, make sure that it is switched off and has cooled down. Clean the display surface using a commercially-available microfiber cloth and TFT/LCD display cleaner. Dr ...
Important safety notes
For reasons of safety, Mercedes-Benz recommends that you drive with the lights switched on even during the daytime. In some countries, operation of the headlamps varies due to legal requiremen ...
Small, Stately
German sport sedans aren't a plus-sized group, and the C-Class is among the smallest. With a footprint roughly equal to that of a Nissan Sentra, the C-Class looks like a miniature version of Merce ...