Fuse box on the left in the direction of travel

Open the hood.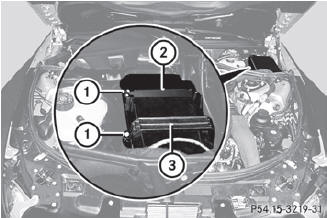 Remove any existing moisture from the fuse box using a dry cloth.

AMG vehicles: remove the control unit above the fuse box.

To open: undo screws 1 with an Allen key.

Remove bracket 3.

Remove cover 2.

To close: check whether the rubber seal is lying correctly in cover 2.

Put cover 2 back in position.

Replace bracket 3.

Tighten screws 1 using an Allen key.

The cover must be seated properly, otherwise moisture or dirt could impair the function of the fuses.

Close the hood.
See also:
Important safety notes
Cruise control maintains a constant road speed for you. It brakes automatically in order to avoid exceeding the set speed. On long and steep downhill gradients, especially if the vehicle is laden ...
Panic alarm
To activate: press button 1 for at least one second. An alarm sounds and the exterior lighting flashes. To deactivate: press button 1 again. or Insert the SmartKey into the ign ...
Extending/retracting the rear window blind
Make sure that the rear window blind can move freely. Otherwise, the blind or other objects could be damaged. The rear window blind is deactivated at temperatures below -20 °C. To extend/ ...