Calling up the compass
The compass shows which direction the vehicle is currently traveling in: N, NE, E, SE, S, SW, W or NW.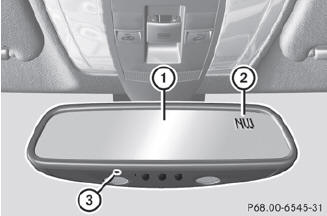 To obtain a correct display in rear-view mirror 1, the compass must be calibrated and the magnetic field zone must be set.
See also:
Please bear the following in mind
Resetting service interval display If the qualified specialist workshop, e.g. a Mercedes-Benz Center, carried out the maintenance work, the service interval display will be reset. Further info ...
Qualified specialist workshop
An authorized Mercedes-Benz Center is a qualified specialist workshop. It has the necessary specialist knowledge, tools and qualifications to correctly carry out the work required on your vehicle. ...
Overview
Mercedes-Benz GL-Class -the seven-seater premium off-roader offers excellent handling both on and off-road and pampers occupants with its extremely spacious accommodation and the comfort of a luxu ...