Stowage compartments in the front
Glove box

The glove box can be cooled.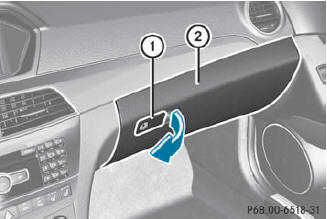 To open: pull handle 1 and open glove box flap 2.


To close: fold glove box flap 2 upwards until it engages.
The glove box can only be locked and unlocked using the mechanical key.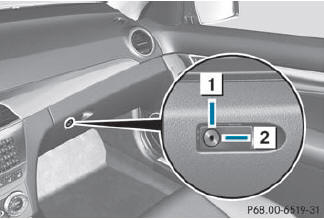 To lock: insert the mechanical key into the lock and turn it 90° clockwise to position 2.


To unlock: insert the mechanical key into the lock and turn it 90° counter-clockwise to position 1.
Eyeglasses compartment
There is a compartment to stow eyeglasses in the headliner on the driver's side.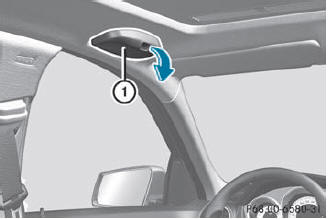 To open: pull down eyeglasses compartment 1 by the handle.
Stowage compartment under the armrest

Depending on the vehicle's equipment, a USB connection and an AUX IN connection or a Media Interface are installed in the stowage compartment. A Media Interface is a universal interface for mobile audio equipment, e.g. for an iPod® or MP3 player (see the separate COMAND operating instructions).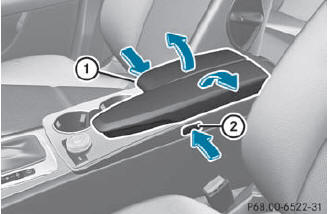 To open: press left-hand button 2 or righthand button 1.
The stowage compartment opens.
Stowage compartment under the front seats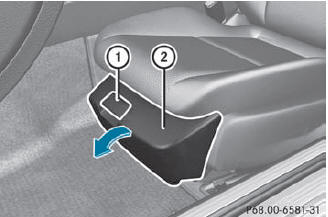 To open: pull handle 1 up and fold cover 2 forwards.
See also:
Correct use of the seat belts
WARNING USE SEAT BELTS PROPERLY • Seat belts can only work when used properly. Never wear seat belts in any other way than as described in this section, as that could result in serious injur ...
Important safety notes
ATTENTION ASSIST helps you during long, monotonous journeys such as on freeways and interstate highways. It is active in the range between 50 mph (80 km/h) and 112 mph (180 km/h). If ATTENTIO ...
Coolant temperature display
WARNING Driving when your engine is overheated can cause some fluids which may have leaked into the engine compartment to catch fire. You could be seriously burned. Steam from an overheated ...