Overall evaluation
This function is shown if you have stored at least one lap and stopped the RACETIMER.

Press

or

on the steering wheel to select the AMG menu.


Press the

button repeatedly until the overall evaluation is shown.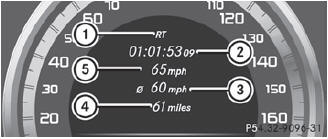 1 RACETIMER overall evaluation
2 Total time driven
3 Average speed
4 Distance covered
5 Top speed
See also:
Parking brake
WARNING Engaging the parking brake while the vehicle is in motion can cause the rear wheels to lock up. You could lose control of the vehicle and cause an accident. In addition, the ve ...
Cabin Quality
If the cockpit in a Cadillac Escalade or Infiniti QX56 feels like a roomy lounge, the GL550's cabin is eminently more carlike. Don't expect massive armrests and a tall dashboard — rather, the wrap ...
Driving downhill
Drive slowly. Do not drive at an angle down steep inclines. Steer into the line of fall and drive with the front wheels aligned straight. Otherwise, the vehicle could slip sideways, tip and ...