Route guidance inactive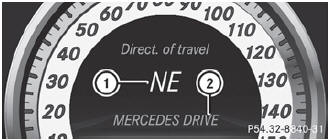 Route guidance inactive
1 Direction of travel
2 Current road
See also:
Load index
Tire data is vehicle-specific and may deviate from the data in the example. In addition to the load bearing index, load index 1 may be imprinted after the letters that identify speed index 6 ...
Working on the vehicle
WARNING When working on the vehicle, engage the parking brake and shift the automatic transmission into park position P. Otherwise the vehicle could roll away which could result in an accide ...
Tread wear
The tread wear grade is a comparative rating based on the wear rate of the tire when tested under controlled conditions on a specified U.S. government course. For example, a tire graded 150 wo ...