Cruise control lever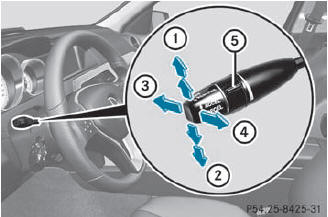 Cruise control lever
1 To store the current speed or a higher speed
2 To store the current speed or a lower speed
3 To deactivate DISTRONIC PLUS
4 To store the current speed or to call up the last stored speed
5 To set the specified minimum distance
See also:
Closing
- Replace the fuel filler cap and turn it clockwise. The fuel filler cap audibly engages. - Close the fuel filler flap. If you drive with the fuel filler cap open, reserve fuel warning la ...
Folding the exterior mirrors in or out automatically
This function is only available in vehicles for Canada. If the "Fold in mirrors when locking" function is activated in the on-board computer: • the exterior mirrors fold in automatical ...
Control panel for dual-zone automatic climate control
Canada only 1. To activate/deactivate air-recirculation mode 2. To defrost the windshield 3. To switch the ZONE function on/off 4. Display 5. To set climate control to automatic ...