Parking lamps/standing lamps (halogen headlamps)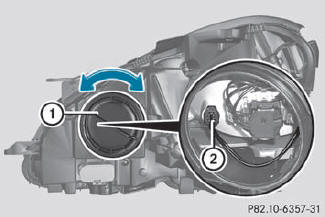 Parking lamps/standing lamps (halogen headlamps)

Switch off the lights.


Open the hood.


Turn housing cover 1 counter-clockwise and pull it out.


Pull out bulb holder 2.


Take the bulb out of bulb holder 2.


Insert the new bulb into bulb holder 2.


Insert bulb holder 2.


Align housing cover 1 and turn it clockwise until it engages.
See also:
Redialing
The on-board computer saves the last names or numbers dialed in the redial memory. Press the or button on the steering wheel to select the Tel menu. Press the button to switch to the ...
Trailer load/noseweight
The trailer load/noseweight affects the gross weight of the vehicle. If a trailer is attached, the trailer load/noseweight is included in the load along with occupants and luggage. The trailer loa ...
Permissible trailer loads and drawbarnoseweights
Weight specifications The Gross Trailer Weight (GTW) is the combined weight of the trailer together with the cargo and equipment loaded on the trailer. Permissible gross weight: 7500 lb (3402 kg) ...