Adjusting the seats manually and electrically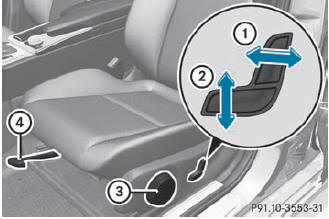 Adjusting the seats manually and electrically
1 Backrest angle
2 Seat height
3 Seat cushion angle
4 Seat fore-and-aft adjustment

AMG vehicles are equipped with a seat with an integrated head restraint. It is therefore not possible to set the height and angle of the head restraint.

Adjust the seat cushion angle so that your thighs are lightly supported.
Seat fore-and-aft adjustment

Lift handle 4 and slide the seat forwards or backwards.


Release lever 4 again.
Make sure that you hear the seat engage in position.
Seat cushion angle

Turn handwheel 3 in the desired direction.
See also:
Bar
Metric unit for tire pressure. There are 14.5038 pounds per square inch (psi) to 1 bar; there are 100 kilopascals (kPa) to 1 bar. ...
Activating/deactivating the MONOfunction
The MONO function is only available with automatic climate control.18 You can use the MONO function to adopt the settings configured for temperature, air distribution and airflow on the driver's s ...
Adjusting the steering wheel manually
elease lever To adjust the steering wheel height To adjust the steering wheel position (fore-and-aft adjustment) Push release lever 1 down completely. The steering column is unlocked. ...