Changing the battery
You require a CR 2025 3 V cell battery.

Take the mechanical key out of the SmartKey.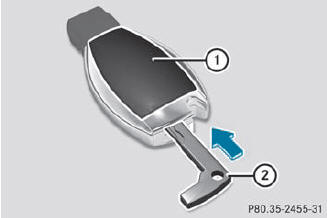 Press mechanical key 2 into the opening in the SmartKey in the direction of the arrow until battery tray cover 1 opens. When doing so, do not hold cover 1 shut.

Remove battery tray cover 1.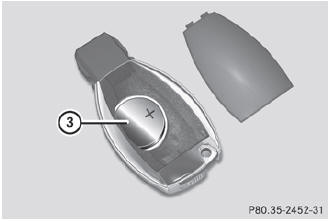 Repeatedly tap the SmartKey against your palm until battery 3 falls out.


Insert the new battery with the positive terminal facing upwards. Use a lint-free cloth to do so.


Make sure that the surface of the battery is free from lint, grease and all other forms of contamination.


Insert the front tabs of battery tray cover 1 and then press to close it.


Insert the mechanical key into the SmartKey.


Check the function of all SmartKey buttons on the vehicle.
See also:
Engaging park position P
Push the DIRECT SELECT lever in the direction of arrow P. The automatic transmission shifts automatically into park position P if you open the driver's door when the vehicle is stationary o ...
Setting the center air vents
1 Center air vent, left 2 Center air vent, right 3 Center vent thumbwheel, right 4 Center vent thumbwheel, left - To open/close: turn thumbwheels 3 and 4 to the right or left. ...
Maximum permissible gross vehicle weight rating
The specifications shown on the Tire and Loading Information placard in the illustration are examples. The maximum permissible gross vehicle weight rating is vehicle-specific and may differ f ...