Important notes on the use of KEYLESS-GO
Х The KEYLESS-GO key can be used like a conventional key.
Х You can combine KEYLESS-GO functions with those of a conventional key, e.g.
unlock with KEYLESS-GO and lock with the

button.
Х Always carry your KEYLESS-GO key on your person.
Х Do not keep the KEYLESS-GO key together with:
- electronic devices, e.g. a mobile phone or another key
- metallic objects, e.g. coins or metal foil.
This can affect the functionality of KEYLESS-GO.
Х When locking and unlocking using KEYLESS-GO, the distance between the SmartKey and the corresponding door handle must not exceed 3 ft (1 m).
Х If the KEYLESS-GO key is removed from the vehicle, it is possible that the system may not recognize the SmartKey. The vehicle can then not be locked or started using KEYLESS-GO.
Х If the KEYLESS-GO key has been removed from the vehicle, e.g. if a passenger leaves the vehicle with a KEYLESS-GO key:
- if the start/stop button is pressed or if an attempt is made to lock the vehicle with the locking button on the outer door handle, the Key Not Detected message appears in the multifunction display
- when the engine is running, the red Key Not Detected message appears in the multifunction display as you pull away.
Find the KEYLESS-GO key and change its position in the vehicle. Carry the KEYLESS-GO key in your shirt pocket, for example.
Х If you have started the engine with the Start/Stop button, you can switch it off again by:
- pressing the Start/Stop button again
- inserting the KEYLESS-GO key into the ignition lock if the vehicle is stationary and the automatic transmission is in park position P.
Х You could unlock the vehicle by mistake if the distance between the KEYLESS-GO key and the vehicle is less than 3 ft (1 m) and:
- an exterior door handle is hit by a water jet
or
- you clean an exterior door handle.
Х Bear in mind that the engine can be started by any of the vehicle occupants if there is a KEYLESS-GO key in the vehicle.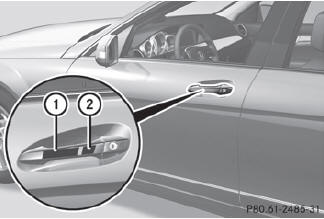 To unlock the vehicle: touch the inner surface of the door handle.


To lock the vehicle: touch sensor surface 1.


Convenience closing feature: touch recessed sensor surface 2 for an extended period.
If you pull on the handle of the trunk lid, only the trunk of the vehicle is unlocked.
See also:
Important safety notes
WARNING For safety reasons, switch off the windshield wipers and remove the key from the ignition lock before changing the wiper blades (vehicles with KEYLESS-GO: make sure that the on-boar ...
Number of seats
The specifications shown on the Tire and Loading Information placard in the illustration are examples. The number of seats is vehicle-specific and can differ from the details shown. The n ...
Defrosting the windows
Windows fogged up on the inside Х► Activate the cooling with air dehumidification function . Х► Activate automatic mode . Х► If the windows continue to fog up, activate the de ...