Pelvis air bags
Pelvis air bags are not available for AMG vehicles.
WARNING
Only use seat covers which have been tested and approved by Mercedes-Benz for your vehicle model. Using seat covers or other seat coverings can cause a malfunction of the side impact air bags and/or the pelvis air bags.
Contact an authorized Mercedes-Benz Center for availability.
Pelvis air bag deployment enhances the level of protection of the vehicle occupants on the side of the vehicle on which the impact occurs.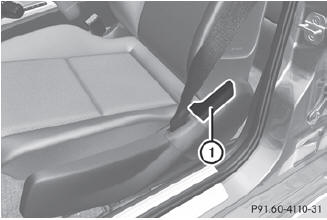 Pelvis air bags 1 deploy next to and below the outer seat cushions. They are deployed:
Х on the side on which an impact occurs
Х at the start of an accident with a high rate of lateral vehicle deceleration or acceleration, e.g. in a side impact
Х independently of seat belt use
Х independently of the front air bags
Х independently of the ETDs
Pelvis air bags 1 will not deploy in side impacts which do not exceed the system's preset deployment thresholds for lateral acceleration/deceleration. You will then be protected by the fastened seat belt.
If the OCS detects that the front-passenger seat is not occupied and the front-passenger seat belt is not fastened (the belt tongue is not engaged in the seat belt buckle), the pelvis air bag on the front-passenger side will not deploy. The pelvis air bag on the frontpassenger side will deploy if the frontpassenger seat belt is fastened, regardless of whether the front-passenger seat is occupied or not.
See also:
Activating/deactivating the radar sensor system
The following systems are switched off when the radar sensor system is deactivated: Х DISTRONIC PLUS Х BAS PLUS Х PRE-SAFEЃ Brake Х Blind Spot Assist Х Active Blind Spot Assist USA on ...
GAWR (Gross Axle Weight Rating)
The GAWR is the maximum permissible axle weight. The actual load on an axle must never exceed the gross axle weight rating. The gross axle weight rating can be found on the vehicle identificat ...
Introduction
SRS consists of: Х the SRS warning lamp Х air bags Х air bag control unit (with crash sensors) Х Emergency Tensioning Devices/belt buckle tensioners Х belt force limiters SRS reduces the ri ...