Pelvis air bags
Pelvis air bags are not available for AMG vehicles.
WARNING
Only use seat covers which have been tested and approved by Mercedes-Benz for your vehicle model. Using seat covers or other seat coverings can cause a malfunction of the side impact air bags and/or the pelvis air bags.
Contact an authorized Mercedes-Benz Center for availability.
Pelvis air bag deployment enhances the level of protection of the vehicle occupants on the side of the vehicle on which the impact occurs.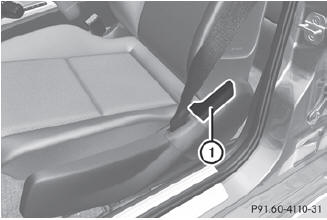 Pelvis air bags 1 deploy next to and below the outer seat cushions. They are deployed:
Х on the side on which an impact occurs
Х at the start of an accident with a high rate of lateral vehicle deceleration or acceleration, e.g. in a side impact
Х independently of seat belt use
Х independently of the front air bags
Х independently of the ETDs
Pelvis air bags 1 will not deploy in side impacts which do not exceed the system's preset deployment thresholds for lateral acceleration/deceleration. You will then be protected by the fastened seat belt.
If the OCS detects that the front-passenger seat is not occupied and the front-passenger seat belt is not fastened (the belt tongue is not engaged in the seat belt buckle), the pelvis air bag on the front-passenger side will not deploy. The pelvis air bag on the frontpassenger side will deploy if the frontpassenger seat belt is fastened, regardless of whether the front-passenger seat is occupied or not.
See also:
Closing
Replace the fuel filler cap and turn it clockwise. The fuel filler cap audibly engages. Close the fuel filler flap. If you drive with the fuel filler cap open, the reserve fuel warning lamp ...
Opening/closing the help window
In addition to the audible instructions, the help window will show you other information during voice control operation and the individualization process. Select Vehicle in the main function b ...
2011 Mercedes-Benz E-Class Review
The 2011 Mercedes-Benz E-Class is a beautiful car inside and out, but after driving the sleek-looking coupe, my admiration for it quickly stopped. Inside the E350 coupe, I couldn't get comfortable ...