Cockpit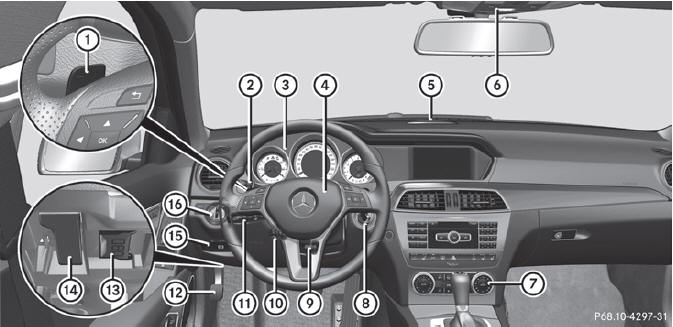 Cockpit
Function
1 Steering wheel paddle shifters
2 Cruise control lever
3 Instrument cluster
4 Horn
5 PARKTRONIC warning display (Canada only)
6 Overhead control panel
7 Climate control systems
8 Ignition lock
Start/Stop button
9 Adjusts the steering wheel manually
10 Adjusts the steering wheel electrically
11 Combination switch<> 12 Parking brake
13 On-board diagnostic interface
14 Opens the hood
15 Releases the parking brake
16 Light switch
See also:
Special seat belt retractor
All seat belts except the driver's seat belt are equipped with a special seat belt retractor. When activated, the special seat belt retractor ensures the seat belt will not slacken once the chi ...
Clearing the shift range restriction
- Pull and hold the right-hand steering wheel paddle shifter until D is shown again in the multifunction display. The automatic transmission shifts from the current shift range directly to D. ...
2011 Mercedes-Benz GL-Class Review
Let's face it: If you're smitten by Mercedes' GL-Class full-size SUV, the recent run-up in prices at the pump probably rates somewhere between insignificant and unimportant in your car search. Wit ...