Closing

WARNING
Monitor the closing procedure carefully to make sure no one is in danger of being injured. To prevent possible personal injury, always keep hands and fingers away from the cargo compartment opening when closing the tailgate. Be especially careful when small children are around. To stop the closing procedure, do one of the following:
Press or pull the remote tailgate opening/ closing switch on the driver's door.
Press the tailgate closing switch.
Press the KEYLESS-GO locking/closing switch.
Pull outside handle on the tailgate.
When no SmartKey is inserted in the starter switch (vehicles with KEYLESS-GO: Make sure the vehicle's on-board electronics have status 0): Press button on the SmartKey.
You can close the tailgate automatically using the SmartKey, the closing button or the locking button.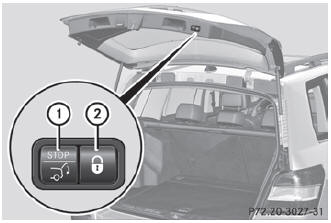 Closing button and locking button (example: vehicle with the EASY-PACK tailgate and KEYLESSGO)
To close: press closing button 1 on the tailgate.
or
Press and hold the button on the SmartKey until the tailgate closes.
To close and lock simultaneously: Press locking button 2 on the tailgate.

The tailgate can only be opened and closed with the SmartKey if there is no SmartKey in the ignition lock.
If the tailgate touches an object while closing, the closing procedure is interrupted and the tailgate reopens.

If you leave a KEYLESS-GO key in the cargo compartment, the tailgate will not lock.
The tailgate is not closed unless a KEYLESS-GO key is detected.
See also:
Active Blind Spot Assist
Important safety notes Active Blind Spot Assist uses a radar sensor system to monitor the side areas of your vehicle which are in back of the driver. A warning display in the exterior mirrors d ...
Overview of Tire Quality Grading Standards
The Uniform Tire Quality Grading is a U.S. Government requirement. Their purpose is to provide drivers with consistent and reliable information regarding tire performance. Tire manufacturers are ...
Tire characteristics
Tire data is vehicle-specific and may deviate from the data in the example. This information describes the tire cord and the number of layers in sidewall 1 and under the tread 2. ...