Control panel for dual-zone automatic climate control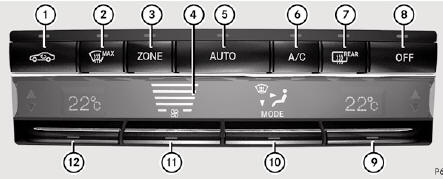 Canada only
1. To activate/deactivate air-recirculation mode
2. To defrost the windshield
3. To switch the ZONE function on/off
4. Display
5. To set climate control to automatic
6. To activate/deactivate cooling with air dehumidification
7. To switch the rear window defroster on/off
8. To switch climate control on/off
9. To set the temperature, right
10. To set the air distribution
11. To set the airflow
12. To set the temperature, left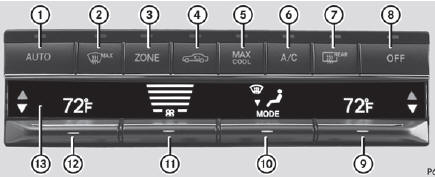 USA only
1. To set climate control to automatic
2. To defrost the windshield
3. To switch the ZONE function on/off
4. To activate/deactivate air-recirculation mode
5. To switch maximum cooling MAX COOL on/off
6. To activate/deactivate cooling with air dehumidification
7. To switch the rear window defroster on/off
8. To switch climate control on/off
9. To set the temperature, right
10. To set the air distribution
11. To set the airflow
12. To set the temperature, left
13. Display
See also:
Closing the hood
WARNING When closing the hood, use extreme caution not to catch hands or fingers. Be careful that you do not close the hood on anyone. Make sure the hood is securely engaged before driving o ...
Coolant
Important safety notes The coolant is a mixture of water and antifreeze/corrosion inhibitor. It performs the following tasks: - corrosion protection - antifreeze protection & ...
Rocking the vehicle free
Rocking the vehicle free by shifting back and forth between transmission positions D and R can help to free a vehicle that has become stuck in mud or snow. The engine management system of the ...