Opening
You can open the trunk lid/tailgate automatically using the SmartKey or the handle in the trunk lid/tailgate.
Х► Press and hold the

button on the SmartKey until the trunk lid/tailgate opens.
or
Х► When the trunk lid/tailgate is unlocked, pull the trunk lid/tailgate handle and let it go again immediately.

WARNING
Monitor the closing procedure carefully to make sure no one is in danger of being injured. To prevent possible personal injury, always keep hands and fingers away from the trunk opening when closing the trunk lid. Be especially careful when small children are around. To stop the closing procedure, do one of the following:
- Press button

on the SmartKey.
- Press the remote trunk opening/closing switch (on the driver's door).
- Press the trunk closing switch.
- Press the KEYLESS-GO locking/closing switch.
RPull the trunk lid handle.
Even with the SmartKey removed from the starter switch or the SmartKey with KEYLESSGO removed from the vehicle, the remote trunk opening/closing switch can be operated. Therefore, do not leave children unattended in the vehicle, or with access to an unlocked vehicle. A child's unsupervised access to a vehicle could result in an accident and/or serious personal injury.
Sedan: you can close the trunk lid automatically using the closing button4 or the locking button5.
Wagon: you can close the tailgate automatically using either the closing button or the locking button6.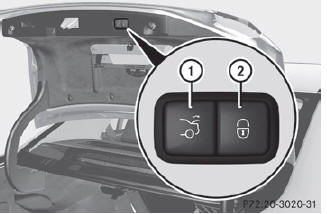 Closing button and locking button (example:
Sedan)
Х► To close: press closing button 1 in the trunk lid/tailgate.
Х► To close and lock simultaneously: Press closing button 2 in the trunk lid/ tailgate.
if you leave a KEYLESS-GO key in the trunk/cargo compartment, the trunk lid/ tailgate will not lock.
See also:
Range of the sensors
General notes The sensors must be free of dirt, ice and slush; otherwise they may not function correctly. Clean the sensors regularly, taking care not to scratch or damage them Side view, Se ...
Route guidance active
No change of direction announced Distance to the destination Distance to the next change of direction Current road Symbol for "follow the road's course" Change of directio ...
Closing
Replace the fuel filler cap and turn it clockwise. The fuel filler cap audibly engages. Close the fuel filler flap. If you drive with the fuel filler cap open, reserve fuel warning lamp ...