Fastening seat belts

WARNING
According to accident statistics, children are safer when properly restrained on the rear seats than on the front-passenger seat. Thus, we strongly recommend that children be placed in the rear seat whenever possible.
Regardless of seating position, children 12 years old and under must be seated and properly secured in an appropriately sized child restraint system or booster seat recommended for the size and weight of the child. For additional information, see the "Children in the vehicle" section.
A child's risk of serious or fatal injuries is significantly increased if the child restraints are not properly secured in the vehicle and/ or the child is not properly secured in the child restraint.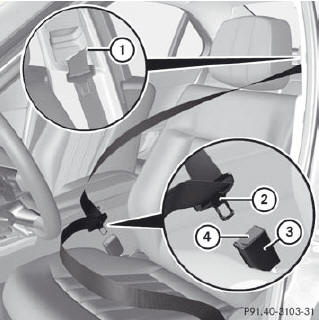 Example: Sedan
- Adjust the seat and move the backrest to an almost vertical position.
- Pull the seat belt smoothly through belt sash guide 1.
- Without twisting it, guide the shoulder section of the seat belt across the middle of your shoulder and the lap section across your hips.
- Engage belt tongue 2 in buckle 3.
Seat-belt adjustment: if necessary, the driver's and front-passenger seat belts automatically adjust to the upper body
- If necessary, adjust the seat belt to the appropriate height.
- If necessary, pull upwards on the shoulder section of the seat belt to tighten the belt across your body.
All seat belts except the driver's seat belt are equipped with a special seat belt retractor to securely fasten child restraint systems in the vehicle. For further information on special seat belt retractors, see.
For more information about releasing the seat belt with release button 4, see "Releasing seat belts".
See also:
Preparing the vehicle
Your vehicle may be equipped with a "Minispare" emergency spare wheel or MOExtended tires (tires with run-flat properties). Vehicle preparation is not necessary on vehicles with MO ...
Driving downhill
- Drive slowly. - Do not drive at an angle down steep inclines. Steer into the line of fall and drive with the front wheels aligned straight. Otherwise, the vehicle could slip sideways, tip an ...
Load index
Tire data is vehicle-specific and may deviate from the data in the example. In addition to the load bearing index, load index 1 may be imprinted after the letters that identify speed index 6 ...