Window curtain air bags
The window curtain air bags enhance the level of protection for the head, but not chest or arms, of the vehicle occupants on the side of the vehicle on which the impact occurs.
The window curtain air bags are integrated into the side of the roof frame and deploy in the area from the A-pillar to the C-pillar.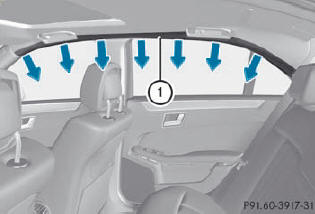 Example: Sedan Window curtain air bags 1 are deployed:
- on the side on which an impact occurs
- at the start of an accident with a high rate of lateral vehicle deceleration or acceleration, e.g. in a side impact
- regardless of whether the front-passenger seat is occupied
- independently of seat belt use
- if the vehicle overturns and the system determines that window curtain air bag deployment can offer additional protection to that provided by the seat belt
- independently of the front air bags
Window curtain air bags 1 will not deploy in impacts with deceleration rates which do not exceed the system's preset deployment thresholds for vehicle deceleration or acceleration. You will then be protected by the fastened seat belt.
See also:
Maximum load on one tire
Maximum load on one tire. This is calculated by dividing the maximum axle load of one axle by two. ...
Comprehensive restraint system for the best possible occupant protection
Combined with the front and rear deformation zones, the high-strength occupant cell forms an effective basis for occupant protection systems that include: adaptive, two-stage airbags for the dri ...
Useful information
This Operator's Manual describes all models and all standard and optional equipment of your vehicle available at the time of publication of the Operator's Manual. Country-specific differenc ...