Window curtain air bags
The window curtain air bags enhance the level of protection for the head, but not chest or arms, of the vehicle occupants on the side of the vehicle on which the impact occurs.
The window curtain air bags are integrated into the side of the roof frame and deploy in the area from the A-pillar to the C-pillar.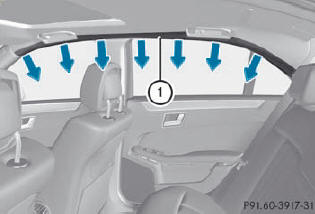 Example: Sedan Window curtain air bags 1 are deployed:
- on the side on which an impact occurs
- at the start of an accident with a high rate of lateral vehicle deceleration or acceleration, e.g. in a side impact
- regardless of whether the front-passenger seat is occupied
- independently of seat belt use
- if the vehicle overturns and the system determines that window curtain air bag deployment can offer additional protection to that provided by the seat belt
- independently of the front air bags
Window curtain air bags 1 will not deploy in impacts with deceleration rates which do not exceed the system's preset deployment thresholds for vehicle deceleration or acceleration. You will then be protected by the fastened seat belt.
See also:
Kickdown
Use kickdown for maximum acceleration. - Vehicles for USA: fully depress the accelerator pedal. The transmission shifts to a lower gear depending on the engine speed. - Vehicles for Canada: dep ...
Releasing the parking lock manually
In the event of an electrical malfunction, it is possible to release the selector lever lock manually to move it out of position P, e.g. if you wish to tow the vehicle away. Do not use any s ...
Introduction
When the automatic transmission is in position D, it is possible to restrict or derestrict the shift range. The shift range selected is shown in the multifunction display. The automatic trans ...