Pelvis air bags

WARNING
Only use seat covers which have been tested and approved by Mercedes-Benz for your vehicle model. Using seat covers or other seat coverings can cause a malfunction of the side impact air bags and/or the pelvis air bags.
Contact an authorized Mercedes-Benz Center for availability.
Pelvis air bag deployment enhances the level of protection of the vehicle occupants on the side of the vehicle on which the impact occurs.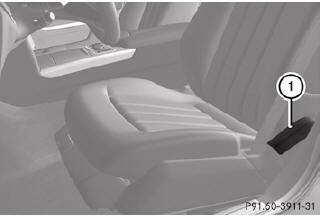 Pelvis air bags 1 deploy next to and below the outer seat cushions. They are deployed:
- on the side on which an impact occurs
- at the start of an accident with a high rate of lateral vehicle deceleration or acceleration, e.g. in a side impact
- independently of seat belt use
- independently of the front air bags
- independently of the ETDs
The pelvis air bags are generally not deployed if the vehicle overturns, unless the system detects high vehicle deceleration or acceleration in a lateral direction and determines that they can offer additional protection to that provided by the seat belt.
Pelvis air bags 1 will not deploy in side impacts which do not exceed the system's preset deployment thresholds for lateral acceleration/deceleration. You will then be protected by the fastened seat belt.
Vehicles with OCS (USA only): if the OCS detects that the front-passenger seat is not occupied and the front-passenger seat belt is not fastened (the belt tongue is not engaged in the seat belt buckle), the pelvis air bag on the front-passenger side will not deploy. The pelvis air bag on the front-passenger side will deploy if the front-passenger seat belt is fastened, regardless of whether the frontpassenger seat is occupied or not.
See also:
Problems with the engine
Problem Possible causes/consequences and Solutions The engine does not start. The starter motor can be heard. - There is a malfunction in the engine electronics. - There i ...
Immobilizer
The immobilizer prevents your vehicle from being started without the correct SmartKey. When leaving the vehicle, always take the SmartKey with you and lock the vehicle. The engine can be starte ...
Opening
Switch off the engine. Remove the SmartKey from the ignition lock. KEYLESS-GO: open the driver's door. This switches the ignition to position 0, which corresponds to having removed the Sma ...