Engine oil viscosity
Viscosity describes the flow characteristics of a fluid. If an engine oil has a high viscosity, this means that it is thick; a low viscosity means that it is thin.
Select an engine oil with an SAE (viscosity) classification suitable for the prevailing outside temperatures. The following table shows the correct SAE classification to be used. The low-temperature characteristics of engine oils can deteriorate significantly, e.g. as a result of aging, soot and fuel deposits. It is therefore strongly recommended that you carry out regular oil changes using an approved engine oil with the appropriate SAE classification.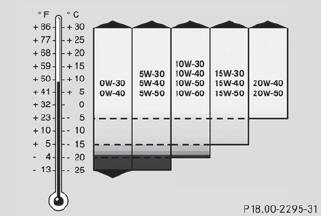 See also:
Important safety notes
WARNING Activate the child-proof locks for the rear doors and the override switch for the rear windows when children are traveling in the vehicle. Children could injure themselves or other ...
Automatic transmission
Shift the transmission to position P. The transmission position display in the multifunction display shows P. You can also start the engine when the transmission is in position N. ...
Activating/deactivating climate control
Important information WARNING When the climate control system is deactivated, the outside air supply and circulation are also deactivated. Only choose this setting for a short time. Otherw ...