Please bear the following in mind
The engine oils are matched to the performance of Mercedes-Benz engines and service intervals. You should therefore only use engine oils and oil filters that are approved for vehicles with maintenance systems.
For a list of approved engine oils and oil filters, consult an authorized Mercedes-Benz Center. Or visit http://www.mbusa.com (USA only).

Never use engine oil or an oil filter of a specification other than is necessary to fulfill the prescribed service intervals. Do not change the engine oil or oil filter in order to achieve longer replacement intervals than those prescribed. You could otherwise cause engine damage or damage to the exhaust gas aftertreatment.
Follow the instructions in the service interval display regarding the oil change.
Otherwise, you may damage the engine and the exhaust gas aftertreatment.
The table shows which engine oils have been approved for your vehicle.
Missing values were not available at time of going to print.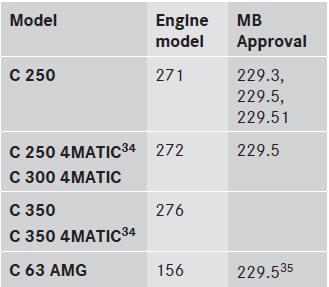 MB approval is indicated on the oil containers.
See also:
Driving with summer tires
At temperatures below 45 °F (+7 °C), the elasticity of summer tires and therefore also traction and braking capability are reduced considerably — equip your vehicle with M+S tires. Using summer ti ...
Everything considered: integral Mercedes-Benz safety concept
The comprehensive Mercedes approach to integral safety also applies in the new R-Class. This trailblazing safety philosophy goes well beyond compliance with standardised crash test regulations. It ...
Hiding display messages
You can hide some display messages with a low priority. Press the or button on the steering wheel to hide the display message. The display message is cleared. Display messages with a hig ...