Tire characteristics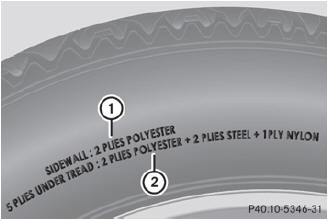 Tire data is vehicle-specific and may deviate from the data in the example.
This information describes the tire cord and the number of layers in sidewall 1 and under the tread 2.
See also:
Windows fogged up on the outside
Switch on the windshield wipers. Activate automatic climate control. You should only select this setting until the windshield is clear again. ...
Driving systems
The red distance warning lamp lights up while the vehicle is in motion. A warning tone also sounds. Risk of accident The warning is issued if you approach a stationary vehicle or a veh ...
Tightening the cargo net
Seat belt reel holder behind the front seats Insert belt hook 1 into cargo tie-down ring 2 in the direction of the arrow. Pull tensioning strap 3 by the loose end in the direction of the ar ...