DOT, Tire Identification Number (TIN)
U.S. tire regulations prescribe that every manufacturer of new tires or retreader has to imprint a TIN in or on the sidewall of each tire produced.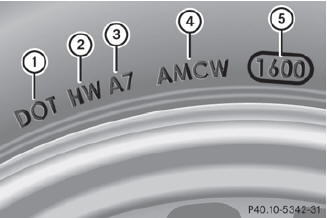 The TIN is a unique identification number. The TIN enables the tire manufacturers to inform purchasers of recalls and other safetyrelevant matters. It makes it possible for the purchaser to easily identify the affected tires.
The TIN is made up of manufacturer identification code 2, tire size 3, tire type code 4 and manufacturing date 5.

Tire data is vehicle-specific and may deviate from the data in the example.
DOT (Department of Transportation): tire symbol 1 indicates that the tire complies with the requirements of the U.S. Department of Transportation.
Manufacturer identification code: manufacturer identification code 2 provides details on the tire manufacturer. New tires have a code with two symbols. Retreaded tires have a code with four symbols.
Further information about retreaded tires.
Tire size: identifier 3 describes the tire size.
Tire type code: tire type code 4 can be used by the manufacturer as a code to describe specific characteristics of the tire.
Date of manufacture: date of manufacture 5 provides information about the age of a tire. The first and second positions represent the week of manufacture, starting with "01" for the first calendar week. Positions three and four represent the year of manufacture.
For example, a tire that is marked with "3208", was manufactured in week 32 in 2008.
See also:
Important safety notes
The EASY-ENTRY/EXIT feature makes getting in and out of your vehicle easier. You can activate and deactivate the EASYENTRY/EXIT feature in the on-board computer. WARNING You must make sure no ...
Wet roads
WARNING After driving in heavy rain for some time without applying the brakes or through water deep enough to wet brake components, the first braking action may be somewhat reduced. You h ...
Closing the hood
WARNING When closing the hood, use extreme caution not to catch hands or fingers. Be careful that you do not close the hood on anyone. Make sure the hood is securely engaged before dr ...