Load index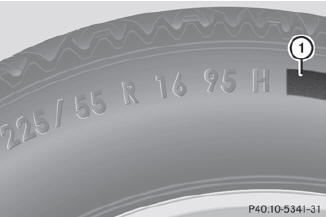 Tire data is vehicle-specific and may deviate from the data in the example.
In addition to the load bearing index, load index 1 may be imprinted after the letters that identify speed rating 6 on the sidewall of the tire.
Х If no specification is given: no text (as in the example above), represents a standard load (SL) tire
Х XL or Extra Load: represents a reinforced tire
Х Light load: represents a light load tire
Х C, D, E: represents a load range that depends on the maximum load that the tire can carry at a certain pressure
See also:
Interactive content
DVDs can contain interactive content (e.g. a video game). In a video game, for example, you may be able to influence events by selecting and triggering actions. The type and number of actions ...
Notes on driving
- If the vehicle is heavily laden, check the tire pressures and correct them if necessary. - When parking your vehicle, make sure that the tires do not get deformed by the curb or other obstacl ...
Rear seat head restraints
WARNING For safety reasons, always drive with the rear head restraints in the upright position when the rear seats are occupied. Keep the area around head restraints clear of articles ...