Fuse box in the engine compartment

Make sure that the windshield wipers are turned off.
WARNING
Make sure that the windshield wipers are switched off and that the SmartKey is removed from the ignition lock before you open the cover of the fuse box. Otherwise, the windshield wipers and the wiper rods above the cover could be set in motion. This could lead to you or others being injured by the wiper rods.

Open the hood.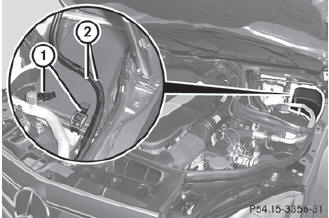 Remove any existing moisture from the fuse box using a dry cloth.


Take lines 2 from the guides.


To open: open clamps 1.


Remove the fuse box cover forwards.

Make sure that no moisture can enter the fuse box when the cover is open.

To close: check whether the rubber seal is lying correctly in the cover.


Insert the cover at the rear of the fuse box into the retainer.


Fold down the cover and close clamps 1.


Secure lines 2 in the guides.

The cover must be seated properly, otherwise moisture or dirt could impair the function of the fuses.

Close the hood.
See also:
Opening and closing the side trimpanels
You must open the side trim panel in the cargo compartment before you can change the bulbs in the tail lamps. Left-hand side trim panel ► To open: turn release knob 1 90° in the direction ...
Closing
WARNING Monitor the closing procedure carefully to make sure no one is in danger of being injured. To prevent possible personal injury, always keep hands and fingers away from the cargo comp ...
Wet roads
WARNING After driving in heavy rain for some time without applying the brakes or through water deep enough to wet brake components, the first braking action may be somewhat reduced. You hav ...