Fuse box in the engine compartment

Make sure that the windshield wipers are turned off.
WARNING
Make sure that the windshield wipers are switched off and that the SmartKey is removed from the ignition lock before you open the cover of the fuse box. Otherwise, the windshield wipers and the wiper rods above the cover could be set in motion. This could lead to you or others being injured by the wiper rods.

Open the hood.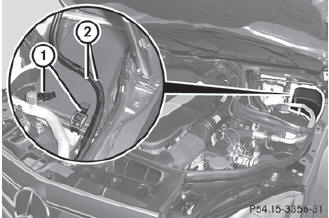 Remove any existing moisture from the fuse box using a dry cloth.


Take lines 2 from the guides.


To open: open clamps 1.


Remove the fuse box cover forwards.

Make sure that no moisture can enter the fuse box when the cover is open.

To close: check whether the rubber seal is lying correctly in the cover.


Insert the cover at the rear of the fuse box into the retainer.


Fold down the cover and close clamps 1.


Secure lines 2 in the guides.

The cover must be seated properly, otherwise moisture or dirt could impair the function of the fuses.

Close the hood.
See also:
Checking the coolant level
Only check the coolant level when the vehicle is on a level surface and the engine has cooled down. Turn the SmartKey to position 2 () in the ignition lock. On vehicles with KEYLESS-GO, press ...
Guide lines in the COMAND display
WARNING Use of rear view camera can be dangerous if you are color-blind or have impaired color vision. Only use rear view camera if you can see and distinguish all colored guidelines ...
Temperature-controlled cup holder in the front-compartment center console
WARNING When you use the warming function, the metal insert of the cup holder is heated. Therefore, do not touch the cup holder insert. Otherwise, you might burn yourself. The temperature-con ...