Cleaning the sensors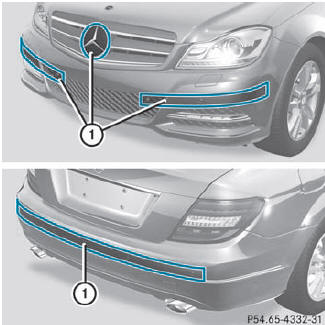 Clean sensors 1 of the driving systems with water, car shampoo and a soft cloth.

When cleaning the sensors with a power washer, maintain a distance between the vehicle and the nozzle of the power washer of at least 11.8 in (30 cm). Information about the correct distance is available from the equipment manufacturer.
See also:
Selecting an active partition (USB mass storage devices only)
You can select this function for USB mass storage devices when the storage device is partitioned. Up to four partitions (primary or logical; FAT format) are supported. The Windows formatting p ...
General notes
WARNING If the vehicle becomes trapped in snow, ensure that snow is kept away from the exhaust pipe and from around the vehicle as long as the engine is running. Otherwise, poisonous carbon ...
Important safety notes
When loading the vehicle, make sure that you do not stack the load in the cargo compartment higher than the lower edge of the side windows. Do not place heavy objects on top of the cargo compar ...