Opening the hood

WARNING
Do not pull the release lever while the vehicle is in motion. Otherwise, the hood could be forced open by passing air flow. This could cause the hood to come loose and injure you and/or others.

WARNING
Do not open the hood when the engine is overheated. You could be seriously injured. Observe the coolant temperature gauge to determine whether the engine may be overheated. If you see flames or smoke coming from the engine compartment, move away from the vehicle. Wait until the engine has cooled. If necessary, call the fire department.

WARNING
There is a risk of injury if the hood is open, even if the engine is not running.
Some engine components can become very hot.
To avoid the risk of burns, only touch those components described in the Operator's Manual and observe the relevant safety notes.

WARNING
To help prevent personal injury, stay clear of moving parts when the hood is open and the engine is running.
The radiator fan may continue to run for approximately 30 seconds or may even restart after the engine has been turned off. Stay clear of fan blades.

WARNING
The engine is equipped with a transistorized ignition system. Because of the high voltage, it is dangerous to touch any components (ignition coils, spark plug sockets, diagnostic socket) of the ignition system:
with the engine running
while starting the engine
when the ignition is switched on and the engine is turned manually
Make sure that the windshield wipers are switched off.

WARNING
The windshield wipers and wiper linkage could be set in motion.
When the hood is open, you or others could be injured by the wiper linkage.
Make sure that the windshield wipers are switched off. Remove the SmartKey or make sure that no ignition position has been selected with KEYLESS-GO. All indicator lamps must be off in the instrument cluster.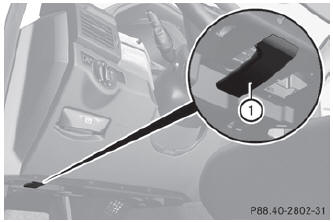 X Pull release lever 1 for the hood. The hood is released.

Make sure that the windshield wipers are not folded away from the windshield. You could otherwise damage the windshield wipers or the hood.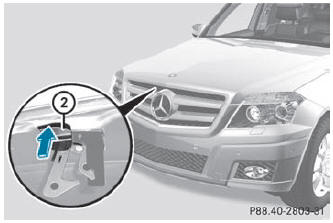 X Reach into the gap, pull hood catch handle 2 up and lift the hood. Once you have lifted the hood about 15 inches (40 cm), it is automatically opened the rest of the way and held open by the gas-filled struts.
See also:
Kickdown
Use kickdown for maximum acceleration. - Vehicles for USA: fully depress the accelerator pedal. The transmission shifts to a lower gear depending on the engine speed. - Vehicles for Canada: dep ...
Please bear the following in mind
Resetting the service interval display A qualified specialist workshop, e.g. an authorized Mercedes-Benz Center, will reset the service interval display after the necessary service work has bee ...
Activating/deactivating the trunk lid opening height restriction
To activate/deactivate the trunk lid opening height restriction: select Vehicle in the main function bar by sliding and turning the COMAND controller and press to confirm. The main are ...