Cleaning Night View Assist Plus

Never clean the camera lens. When cleaning the field of vision of the driving systems, make sure that you do not spray glass cleaner on the camera lens. If the camera lens is dirty, visit a qualified specialist workshop.
WARNING
Please do not forget that your primary responsibility is to drive the vehicle. A driver's attention to the road must always be his/her primary focus when driving. For your safety and the safety of others, stop before trying to remove window fogging or cleaning the window in front of the Night View Assist Plus camera.
Bear in mind that at a speed of just 30 mph (approximately 50 km/h), your vehicle is covering a distance of 44 feet (approximately 14 m) every second.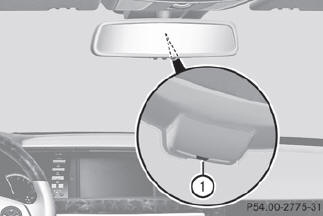 Fold down the camera cover by recess 1.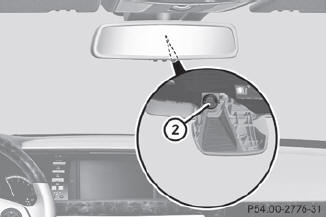 Use a soft cloth to clean the windshield in front of camera 2.
See also:
Pedals
WARNING Make sure absolutely no objects are obstructing the pedals' range of movement. Keep the driver's footwell clear of all obstacles. If there are any floormats or carpets in the footwell ...
Belt height adjustment
You can adjust the seat belt height on the driver's seat and the front-passenger seat. Adjust the height so that the upper part of the seat belt is routed across the center of your shoulder ...
Switching traffic reports on/off
To switch on: set the route type to Dynamic Route. To switch off: select the Fast Route or Short Route route type. COMAND calculates a new route if you change the route type setting with ro ...