Route guidance active
No change of direction announced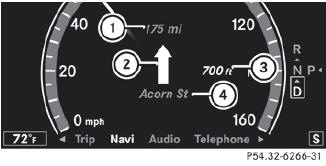 1 Distance to the destination
2 Symbol for "follow the road's course"
3 Distance to the next change of direction
4 Current road
Change of direction announced without a lane recommendation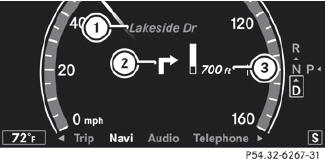 1 Road into which the change of direction leads
2 Symbol for change of direction
3 Distance to change of direction and visual distance display
When a change of direction has been announced, you will see visual distance display 3 next to the symbol for the change of direction 2. This decreases in size as you approach the announced change of direction.
Change of direction announced with a lane recommendation
Lane recommendations are only displayed if the relevant data is available on the digital map.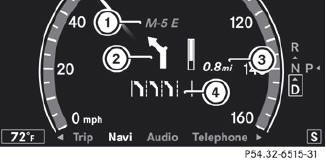 1 Road into which the change of direction leads
2 Symbol for change of direction
3 Distance to change of direction and visual distance display
4 Lane recommendation
On multiple-lane roads, COMAND can provide lane recommendation 4 for the next change of direction. Lanes may be added during a change of direction.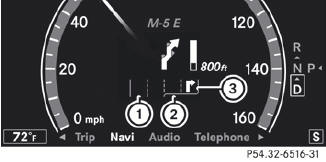 1 Uninterrupted lane
2 New lane during a change of direction
3 Lane recommended for the change of direction
See also:
Interior
The simplistic but perfectly usable space inside the GLK350 quietly and confidently transported me with my children in tow. It was equally intrepid during a rare single mom's night on the town. ...
Steering wheel heating
Switching on/off The steering-wheel heating heats the leather areas of the steering wheel. ► Make sure that the SmartKey is in position 2 in the ignition lock. ► To switch on/off: ...
Important safety notes
WARNING Ensure that the trunk lid/tailgate is closed when the engine is running and the vehicle is in motion. Among other dangers, deadly carbon monoxide (CO) may enter the vehicle interi ...