Floormat on the driver's side
WARNING
Whenever you are using a floormat, make sure there is enough clearance and that the floormat is securely fastened.
The floormat should always be securely fastened using the fastening equipment.
Before driving off, check that the floormat is securely in place and adjust it if necessary. A loose floormat could slip and hinder proper functioning of the pedals.
Do not place several floormats on top of each other as this may impair pedal movement.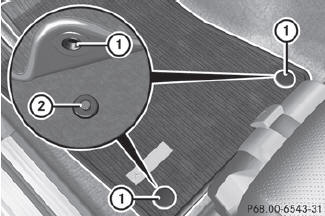 Slide the seat backwards.


To install: place the floormat in the footwell.


Press studs 1 onto retainers 2.


To remove: pull the floormat off retainers 2.


Remove the floormat.
See also:
General information
Read this section carefully before driving your vehicle off-road. Practice by driving over more gentle off-road terrain first. Familiarize yourself with the characteristics of your vehicle and t ...
Underinflated tires
WARNING Follow recommended tire inflation pressures. Do not underinflate tires. Underinflated tires wear excessively and/or unevenly, adversely affect handling and fuel economy, and are more ...
General notes
WARNING If the vehicle becomes trapped in snow, ensure that snow is kept away from the exhaust pipe and from around the vehicle as long as the engine is running. Otherwise, poisonous carbon ...