Calling up the compass
The compass shows which direction the vehicle is currently traveling in: N, NE, E, SE, S, SW, W or NW.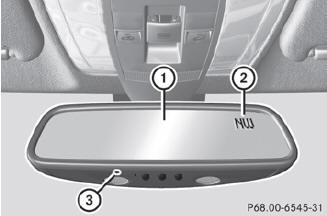 To obtain a correct display in rear-view mirror 1, the compass must be calibrated and the magnetic field zone must be set.
See also:
Infrared reflective windshield
The infrared reflecting glass prevents the vehicle interior from becoming too hot. It also blocks radio waves up into the gigahertz range. In order to operate radio-controlled equipment, e.g. t ...
Storing the ball coupling
WARNING Do not carry the ball coupling in the vehicle interior if it is not secured. Otherwise, you and others could be injured by the ball coupling being thrown around if you: brake shar ...
Tire tread
WARNING Although the applicable federal motor vehicle safety laws consider a tire to be worn when the tread wear indicators (TWI) become visible at approximately 1/16 in (1.6 mm), we r ...