Ashtray in the rear-compartment center console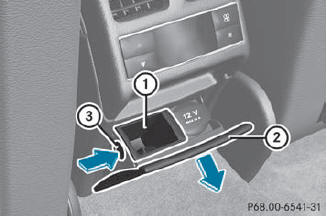 Ashtray in the rear-compartment center console

To open: pull cover 2 out by its top edge.


To remove the insert: press release button 3 and lift the insert up and out.


To install the insert: put insert 1 from above into the holder and press down into the holder until it engages.
See also:
Setting the rear-compartment side air vents
These rear-compartment side air vents are only available if your vehicle has 3-zone automatic climate control. 1 B-pillar air vent 2 Thumbwheel for B-pillar air vent - To open/close: turn thu ...
Washing by hand
In some countries, washing by hand is only allowed at specially equipped washing bays. Observe the legal requirements in all countries concerned. Do not use hot water and do not wash the ...
Underinflated or overinflated tires
Underinflated tires WARNING Follow recommended tire inflation pressures. Do not underinflate tires. Underinflated tires wear excessively and/or unevenly, adversely affect handling and fuel ...