Bag hooks

The bag hook can bear a maximum load of 11 lbs (5 kg). Do not use it to secure a load.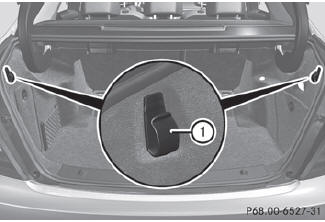 1 Bag hook
See also:
Ashtray in the front-compartment center console
You can remove the ashtray insert and use the resulting compartment for stowage. The stowage space under the ashtray is not heat resistant. Before placing lit cigarettes in the ashtray, make ...
Folding the rear bench seat forwards
If the driver's or front-passenger seat is set for a larger person, it may not be possible to fold the rear bench seat forwards. In this case, move the front seats as far forward as possible. ...
Load index
Tire data is vehicle-specific and may deviate from the data in the example. In addition to the load bearing index, load index 1 may be imprinted after the letters that identify speed r ...