SETUP
SETUP shows the drive program, the ESP® (Electronic Stability Program) mode and the SPORT handling mode.

Press

or

on the steering wheel to select the AMG menu.


Press the

button repeatedly until SETUP is displayed.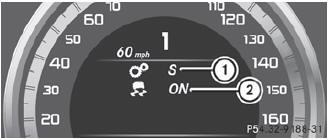 1 Drive program (C/S/S+/M)
2 ESP® mode (ON/OFF) or SPORT handling mode (SPORT)
See also:
Cabin Quality
If the cockpit in a Cadillac Escalade or Infiniti QX56 feels like a roomy lounge, the GL550's cabin is eminently more carlike. Don't expect massive armrests and a tall dashboard — rather, the wrap ...
Adjusting the four-way lumbarsupport
You can adjust the contour of the driver's seat backrests individually to provide optimum support for your back. 1 To raise the backrest contour 2 To soften the backrest contour 3 To lower the ...
Towing a trailer
There are numerous legal requirements concerning the towing of a trailer, e.g. speed restrictions. Make sure that your vehicle/ trailer combination complies with the local requirements not only in ...