Menu overview
The number of menus shown depends on the optional equipment in the vehicle.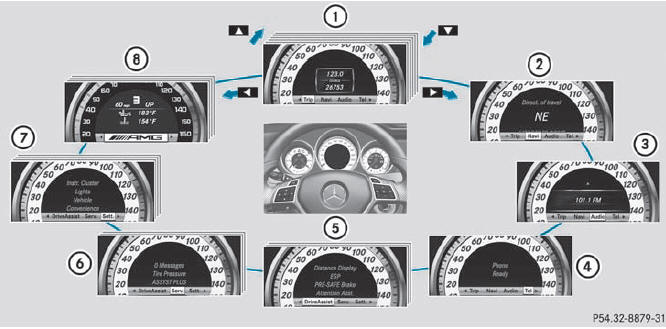 Function
1 Trip menu
2 Navi menu (navigation details)
3 Audio menu
4 Tel menu (telephone)
5 DriveAssist menu (assistance)
6 Serv. menu
Х calls up display messages
Х tire pressure loss warning system (Canada only)
Х tire pressure monitor
Х ASSYST PLUS service interval display
7 Sett. menu
8 AMG menu in AMG vehicles
The Audio and Tel menus differ slightly in vehicles with an audio system and vehicles with COMAND. The examples given in this Operator's Manual apply to vehicles equipped with COMAND.