Warning and display messages in the multifunction display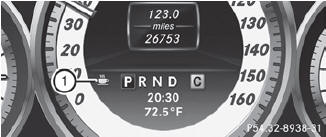 Activate ATTENTION ASSIST using the onboard computer.
Symbol 1 appears in the multifunction display.
If ATTENTION ASSIST is active, you will be warned no sooner than 20 minutes after your journey has begun. You will then hear an intermittent warning tone twice, and the Attention Assist: Drowsiness Detected message appears in the multifunction display.

If necessary, take a break.


Press

to confirm the message.
On long journeys, take regular breaks in good time to allow yourself to rest properly. If you do not take a break and ATTENTION ASSIST still detects typical indicators of fatigue or increasing lapses in concentration, you will be warned again after 15 minutes at the earliest.
ATTENTION ASSIST is reset when you continue your journey and starts assessing your tiredness again if:
• you switch off the engine.
• you take off your seat belt and open the driver's door, e.g. for a change of drivers or to take a break.
See also:
Function restrictions
Depending on the DVD, it is possible that certain functions or actions described in this section will be temporarily blocked or may not function at all. As soon as you try to activate these fu ...
AMG displays
Press or on the steering wheel to select the AMG menu. 1 Gear indicator 2 Upshift indicator 3 Engine oil temperature 4 Coolant temperature Upshift indicator UP 2 indicates that the ...
Reporting malfunctions relevant to safety
For the USA only: The following text is reproduced as required of all manufacturers according to Title 49, Code of U.S. Federal Regulations, Part 575 pursuant to the National Traffic and Motor ...