Fuel filler flap emergency release
WARNING
Avoid contact with the vehicle walls as they may contain sharp edges. Otherwise, you could injure yourself while releasing the fuel filler flap.
The emergency release is located in the trunk behind the side trim on the right-hand side, when viewed in the direction of travel.

Open the trunk lid.


Open the right-hand side trim panel.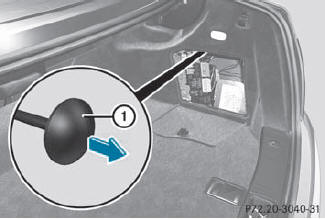 Pull emergency release 1 in the direction of the arrow.
The fuel filler flap is unlocked.


Open the fuel filler flap.
See also:
PSI (pounds per square inch)
A standard unit of measure for tire pressure. ...
Components and storage
The EASY-PACK load-securing kit allows you to use your cargo compartment for a variety of purposes. You can keep the EASY-PACK load-securing kit in the bag supplied and store it together with the ...
DEF
Important safety notes For BlueTEC vehicles only. DEF is a non-flammable, non-toxic, colorless, odorless and water-soluble fluid. Rinse surfaces that have come into contact with DEF immediately ...