Control panel for 3-zone automatic climate control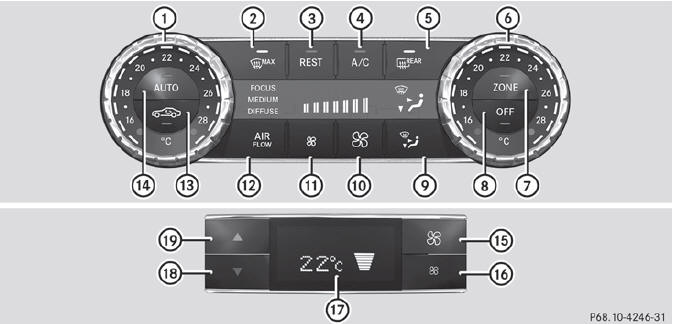 Control panel for 3-zone automatic climate control
Canada only
Front control panel
1 To set the temperature, left.
2 To defrost the windshield.
3 To activate/deactivate the residual heat function.
4 To activate/deactivate cooling with air dehumidification.
5 To switch the rear window defroster on/off.
6 To set the temperature, right.
7 To switch the ZONE function on/off.
8 To switch climate control on/off.
9 To set the air distribution.
10 To increase the airflow.
11 To reduce the airflow.
12 To adjust the climate control settings (AIR FLOW).
13 To activate/deactivate air-recirculation mode.
14 To set climate control to automatic
Rear control panel
15 To increase the airflow.
16 To reduce the airflow.
17 Display.
18 To reduce the temperature.
19 To increase the temperature.
See also:
Components of COMAND
COMAND consists of: Х the COMAND display/SPLITVIEW Х the DVD changer Х the COMAND controller Х the COMAND function buttons Х the telephone keypad Х connections in the glove box (USB, ...
Important safety notes
WARNING It is dangerous to shift the automatic transmission out of parking position P or neutral position N if the engine speed is higher than idle speed. If your foot is not firmly on the b ...
Folding the exterior mirrors in or out automatically
This function is only available in vehicles for Canada. If the "Fold in mirrors when locking" function is activated in the on-board computer (): the exterior mirrors fold in automatic ...