Control panel for dual-zone automatic climate control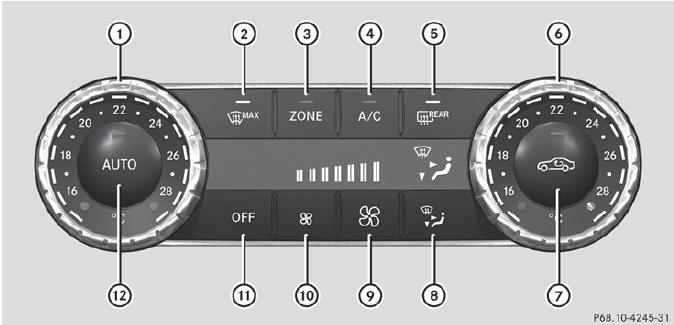 Control panel for dual-zone automatic climate control
Canada only
1 To set the temperature, left.
2 To defrost the windshield.
3 To switch the ZONE function on/off.
4 To activate/deactivate cooling with air dehumidification.
5 To switch the rear window defroster on/off.
6 To set the temperature, right.
7 To activate/deactivate air-recirculation mode.
8 To set the air distribution.
9 To increase the airflow.
10 To reduce the airflow.
11 To switch climate control on/off.
12 To set climate control to automatic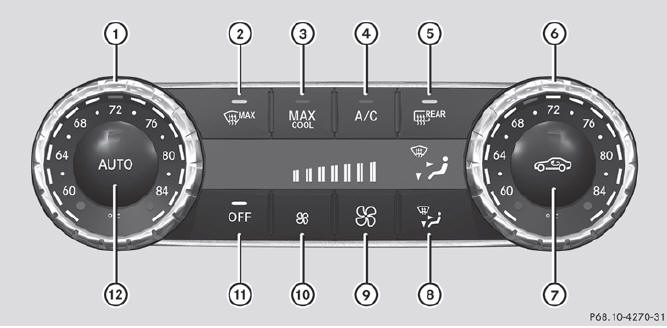 Control panel for dual-zone automatic climate control
USA only
1 To set the temperature, left.
2 To defrost the windshield.
3 To switch maximum cooling MAX COOL on/off.
4 To activate/deactivate cooling with air dehumidification.
5 To switch the rear window defroster on/off.
6 To set the temperature, right.
7 To activate/deactivate air-recirculation mode.
8 To set the air distribution.
9 To increase the airflow.
10 To reduce the airflow.
11 To switch climate control on/off.
12 To set climate control to automatic.
See also:
Activating AUX mode
AUX drive Select AUX in the menu using the buttons on the remote control and press the button to confirm. The AUX menu appears. Select Source from the AUX menu and press the button to ...
Proper use
WARNING There are various warning stickers affixed to your vehicle. Their purpose is to alert you and others to various dangers. Therefore, do not remove any warning stickers unless the sti ...
Seating & Cargo
The front seats have a litany of power adjustments, including optional side-bolster adjustments. Even with the bolsters and lumbar support dialed all the way back, I found the seats stiff. That's ...