Switching on/off
WARNING
Repeatedly setting the seat heating to level 3 may result in excessive seat temperatures.
The health of passengers that have limited temperature sensitivity or a limited ability to react to excessively high temperatures may be affected or they may even suffer burn-like injuries. Therefore, do not use seat heating level 3 repeatedly.
The three red indicator lamps in the button indicate the heating level you have selected.

If the battery voltage is too low, the seat heating may switch off.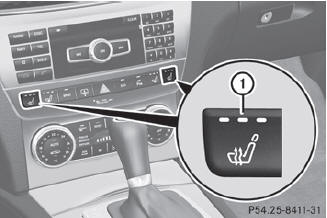 Driver's and front-passenger seat
The system automatically switches down from level 3 to level 2 after approximately eight minutes.
The system automatically switches down from level 2 to level 1 after approximately ten minutes.
The system automatically switches off approximately 20 minutes after it is set to level 1.

Make sure that the SmartKey is in position 1 or 2 in the ignition lock.


To switch on: press button 1 repeatedly until the desired heating level is set.


To switch off: press button 1 repeatedly until all the indicator lamps go out.
See also:
Opening automatically from the inside
WARNING Make sure the trunk lid is closed when the engine is running and while driving. Among other dangers, deadly carbon monoxide (CO) gases may enter the vehicle interior resulting in un ...
Snow chains
For safety reasons, Mercedes-Benz recommends that you only use snow chains which have been specially approved for your vehicle by Mercedes-Benz, or are of a corresponding standard of quality. ...
Selecting a station
You can select an HD Radio station in the same way as selecting a standard FM radio station. After setting an HD Radio frequency, you will briefly hear the analog station until the digital dat ...