Locking and unlocking centrally
The SmartKey centrally locks/unlocks:
• the doors
• the trunk lid
• the fuel filler flap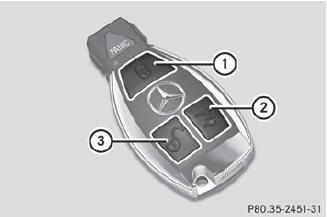 1

Locks the vehicle
2

Unlocks the trunk lid
3

Unlocks the vehicle
When unlocking, the turn signals flash once.
When locking, they flash three times.
When it is dark, the surround lighting also comes on if it is activated in the on-board computer.
If you activate the acoustic locking confirmation function, you will hear the following, depending on the date of production of the vehicle:
• an acoustic signal when locking
or
• one acoustic signal when unlocking and three when locking.
The audible signal can be activated and deactivated using the on-board computer.

To unlock centrally: press the

button.
If you do not open the vehicle within approximately 40 seconds of unlocking:
• the vehicle is locked again.
• the theft deterrent locking system is armed again.

To lock centrally: press the

button.
See also:
Receiving vCards via Bluetooth®
You can receive vCards from devices (such as a PC) which support the transmission of vCards via Bluetooth®. This requires the device to be authorized in COMAND. PCs must be authorized via the ...
Fastening seat belts
WARNING According to accident statistics, children are safer when properly restrained on the rear seats than on the front-passenger seat. Thus, we strongly recommend that children be placed ...
Underinflated tires
WARNING Follow recommended tire inflation pressures. Do not underinflate tires. Underinflated tires wear excessively and/or unevenly, adversely affect handling and fuel economy, and are more ...