Cruise control lever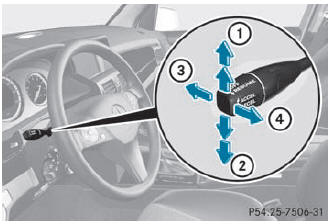 To switch on or to increase the speed
To switch on or to reduce the speed
To deactivate cruise control
To switch on with the current speed or with the last stored speed
When you activate cruise control, the stored speed is shown in the multifunction display for five seconds. In the multifunction display, the segments between the stored speed and the maximum speed light up.
See also:
Transmission positions
Park position Do not shift the transmission into position P() unless the vehicle is stationary. The parking lock should not be used as a brake when parking. In addition to engaging the parking ...
Important safety notes
Parking Guidance is an electronic parking aid with ultrasound. Ultrasound is used to measure the road on both sides of the vehicle. A suitable parking space is indicated by the parking symbol. ...
Cleaning the wheels
Do not use acidic wheel cleaning products to remove brake dust. This could damage wheel bolts and brake components. Do not park the vehicle for an extended period straight after cleaning it, ...