Deactivating/activating ESP®

Observe the "Important safety notes" section ().

WARNING
ESP® should not be deactivated during normal driving other than in the circumstances described below. Disabling the system will reduce vehicle stability in driving maneuvers.
Do not deactivate ESP® when the emergency or spare wheel is mounted.
ESP® is activated automatically when the engine is started.
It may be best to deactivate ESP® in the following situations:
when using snow chains
in deep snow
on sand or gravel

WARNING
Switch on ESP® immediately if one of the previously stated conditions is no longer met. Otherwise, ESP® cannot stabilize the vehicle if it begins to lurch or when a wheel spins.
When you deactivate ESP®:
ESP® no longer improves driving stability.
the engine's torque is no longer limited and the drive wheels can spin. The spinning of the wheels results in a cutting action, which provides better grip.
traction control is still activated.
ESP® still provides support when you brake.
If ESP® is deactivated and one or more wheels start to spin, the

ESP® warning lamp in the instrument cluster flashes. In such situations, ESP® will not stabilize the vehicle.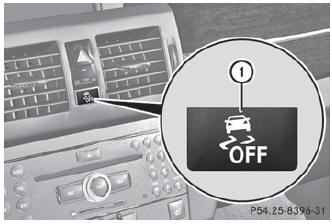 To deactivate: press button 1. The ESP® OFF warning lamp in the instrument cluster lights up.

WARNING
When the

ESP OFF warning lamp lights up, ESP is switched off.
When the

ESP warning lamp and the

ESP OFF warning lamp are on continuously, ESP is not operational due to a malfunction.
When ESP is switched off or not operational, the vehicle's stability during standard driving maneuvers is reduced.
Adapt your driving style to suit the prevailing road conditions/weather conditions and to the non-operating status of ESP.

Avoid spinning the driven wheels for an extended period with ESP® deactivated. You could otherwise damage the drivetrain.
To activate: press button 1. The ESP® OFF warning lamp in the instrument cluster goes out.
See also:
Problems with the cooling with air dehumidification function
When you press the button, the indicator lamp in the button flashes three times or remains off. You can no longer switch on the cooling with air dehumidification function. •► Consult a ...
EXTERIOR
Toyota calls its 2011 Sienna minivan the Swagger Wagon; I've decided to call the R-Class the Svaager Vaagon (said with a German accent). My test car in Diamond White paint definitely had svaager, ...
Opening/closing automatically fromthe inside
WARNING Maintain sight of the area around the rear of the vehicle while operating the tailgate with the door-mounted remote tailgate switch. Monitor the opening procedure carefully to ...