Deactivating/activating ESP®

Observe the "Important safety notes" section ().

WARNING
ESP® should not be deactivated during normal driving other than in the circumstances described below. Disabling the system will reduce vehicle stability in driving maneuvers.
Do not deactivate ESP® when the emergency or spare wheel is mounted.
ESP® is activated automatically when the engine is started.
It may be best to deactivate ESP® in the following situations:
when using snow chains
in deep snow
on sand or gravel

WARNING
Switch on ESP® immediately if one of the previously stated conditions is no longer met. Otherwise, ESP® cannot stabilize the vehicle if it begins to lurch or when a wheel spins.
When you deactivate ESP®:
ESP® no longer improves driving stability.
the engine's torque is no longer limited and the drive wheels can spin. The spinning of the wheels results in a cutting action, which provides better grip.
traction control is still activated.
ESP® still provides support when you brake.
If ESP® is deactivated and one or more wheels start to spin, the

ESP® warning lamp in the instrument cluster flashes. In such situations, ESP® will not stabilize the vehicle.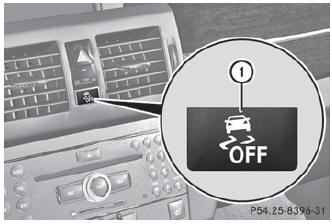 To deactivate: press button 1. The ESP® OFF warning lamp in the instrument cluster lights up.

WARNING
When the

ESP OFF warning lamp lights up, ESP is switched off.
When the

ESP warning lamp and the

ESP OFF warning lamp are on continuously, ESP is not operational due to a malfunction.
When ESP is switched off or not operational, the vehicle's stability during standard driving maneuvers is reduced.
Adapt your driving style to suit the prevailing road conditions/weather conditions and to the non-operating status of ESP.

Avoid spinning the driven wheels for an extended period with ESP® deactivated. You could otherwise damage the drivetrain.
To activate: press button 1. The ESP® OFF warning lamp in the instrument cluster goes out.
See also:
Panic alarm
- To activate: press button 1 for at least one second. An alarm sounds and the exterior lighting flashes. - To deactivate: press button 1 again. or - Insert the SmartKey into the ignit ...
Important safety notes
WARNING Only use fuses that have been approved for Mercedes-Benz vehicles and that have the correct fuse rating for the systems concerned. Do not attempt to repair or bridge faulty fuses. Us ...
Number of seats
The specifications shown on the Tire and Loading Information placard in the illustration are examples. The number of seats is vehicle-specific and can differ from the details shown. The number of ...