Pelvis air bags

WARNING
Only use seat covers which have been tested and approved by Mercedes-Benz for your vehicle model. Using seat covers or other seat coverings can cause a malfunction of the side impact air bags and/or the pelvis air bags. Contact an authorized Mercedes-Benz Center for availability.
Pelvis air bag deployment enhances the level of protection of the vehicle occupants on the side of the vehicle on which the impact occurs.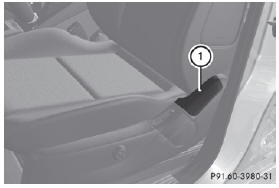 Pelvis air bags 1 deploy next to and below the outer seat cushions. They are deployed:
on the side on which an impact occurs
at the start of an accident with a high rate of lateral vehicle deceleration or acceleration, e.g. in a side impact
independently of seat belt use
independently of the front air bags
independently of the ETDs
The pelvis air bags are generally not deployed if the vehicle overturns, unless the system detects high vehicle deceleration or acceleration in a lateral direction and determines that they can offer additional protection to that provided by the seat belt.
Pelvis air bags 1 will not deploy in side impacts which do not exceed the system's preset deployment thresholds for lateral acceleration/deceleration. You will then be protected by the fastened seat belt.
Vehicles with OCS (USA only): if the OCS detects that the front-passenger seat is not occupied and the front-passenger seat belt is not fastened (the belt tongue is not engaged in the seat belt buckle), the pelvis air bag on the front-passenger side will not deploy. The pelvis air bag on the front-passenger side will deploy if the front-passenger seat belt is fastened, regardless of whether the frontpassenger seat is occupied or not.
See also:
Important safety notes
WARNING Gasoline is highly flammable and poisonous. It burns violently and can cause serious personal injury. Never allow sparks, flames or smoking materials near gasoline. Turn off the engi ...
System self-test
After you have switched on the ignition, the system carries out a self-diagnosis. WARNING A malfunction in the system has been detected if one of the following conditions occurs: - the indic ...
Center console, upper section
1 Audio system/COMAND; see the separate operating instructions 2 Seat heating 3 Seat ventilation 4 PARKTRONIC 5 Downhill Speed Regulation (vehicles without AIRMATIC package) 6 Hazard war ...