Pelvis air bags

WARNING
Only use seat covers which have been tested and approved by Mercedes-Benz for your vehicle model. Using seat covers or other seat coverings can cause a malfunction of the side impact air bags and/or the pelvis air bags. Contact an authorized Mercedes-Benz Center for availability.
Pelvis air bag deployment enhances the level of protection of the vehicle occupants on the side of the vehicle on which the impact occurs.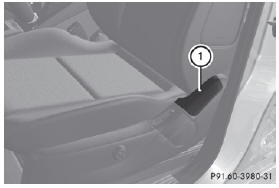 Pelvis air bags 1 deploy next to and below the outer seat cushions. They are deployed:
on the side on which an impact occurs
at the start of an accident with a high rate of lateral vehicle deceleration or acceleration, e.g. in a side impact
independently of seat belt use
independently of the front air bags
independently of the ETDs
The pelvis air bags are generally not deployed if the vehicle overturns, unless the system detects high vehicle deceleration or acceleration in a lateral direction and determines that they can offer additional protection to that provided by the seat belt.
Pelvis air bags 1 will not deploy in side impacts which do not exceed the system's preset deployment thresholds for lateral acceleration/deceleration. You will then be protected by the fastened seat belt.
Vehicles with OCS (USA only): if the OCS detects that the front-passenger seat is not occupied and the front-passenger seat belt is not fastened (the belt tongue is not engaged in the seat belt buckle), the pelvis air bag on the front-passenger side will not deploy. The pelvis air bag on the front-passenger side will deploy if the front-passenger seat belt is fastened, regardless of whether the frontpassenger seat is occupied or not.
See also:
Assembling the ball coupling
Mercedes-Benz recommends that you have the ball coupling assembled at a qualified specialist workshop. Only a qualified specialist workshop has the necessary specialist knowledge and tool ...
The interior: Luxurious surrounds with many exclusive touches
Quite apart from its breathtaking design, the vehicle body of the new Mercedes CLS spoils all occupants with its generous interior measurements: in particular, the four-door coupé offers mo ...
Tire pressure specifications
WARNING Follow recommended tire inflation pressures. Do not underinflate tires. Underinflated tires wear excessively and/or unevenly, adversely affect handling and fuel economy, and are mo ...