Driver's knee bag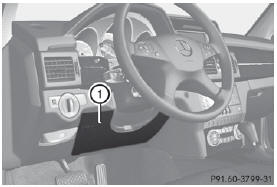 Driver's knee bag 1 provides additional protection for the driver against:
knee injuries
thigh injuries
lower leg injuries
Driver's knee bag 1 deploys below the steering wheel. During a frontal impact, if the system determines that air bag deployment can offer additional protection to that provided by the seat belt, driver's knee bag 1 is deployed along with the driver's air bag. The driver's knee bag 1 operates best in conjunction with a properly positioned and fastened seat belt.
See also:
Service for recovering a stolen vehicle
If your vehicle has been stolen: Notify the police. The police will issue a numbered incident report. This number will be forwarded to the Mercedes-Benz Customer Assistance Center togethe ...
Lights
Display messages about LEDs: This display message will only appear if all LEDs have failed. Display messages Possible causes/consequences and Solutions The left or right ...
"Electronic crumple zone": even more safety in the M-Class
As ever, the best accident is one which does not happen at all. The safety engineers at the Mercedes Technology Center are working intensively on this rather simple sounding statement, which in pr ...