Overall evaluation
This function is shown if you have stored at least one lap and stopped the RACETIMER.

Press

or

on the steering wheel to select the AMG menu.

Press the

button repeatedly until the overall evaluation is shown.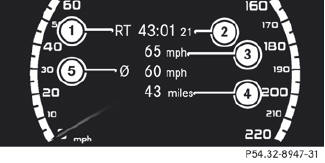 1 RACETIMER overall evaluation
2 Total time driven
3 Top speed
4 Distance covered
5 Average speed
See also:
Surprising Agility
At 17 feet long, the S550 is obviously a large car, but it doesn't feel the least bit ponderous from the driver's seat. It's pretty easy to maneuver through heavy, fast-moving highway traffic and ...
Defrosting the windshield
You can use this function to defrost the windshield or to defrost the inside of the windshield and the side windows. You should only select the defrosting function until the windshield is clea ...
Driving with summer tires
At temperatures below 45 °F (+7 °C), the elasticity of summer tires and therefore also traction and braking capability are reduced considerably — equip your vehicle with M+S tires. Using summer ti ...