Route guidance active
No change of direction announced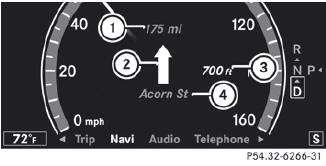 1 Distance to the destination
2 Symbol for "follow the road's course"
3 Distance to the next change of direction
4 Current road
Change of direction announced without a lane recommendation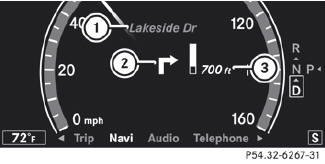 1 Road into which the change of direction leads
2 Symbol for change of direction
3 Distance to change of direction and visual distance display
When a change of direction has been announced, you will see visual distance display 3 next to the symbol for the change of direction 2. This decreases in size as you approach the announced change of direction.
Change of direction announced with a lane recommendation
Lane recommendations are only displayed if the relevant data is available on the digital map.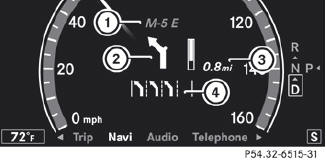 1 Road into which the change of direction leads
2 Symbol for change of direction
3 Distance to change of direction and visual distance display
4 Lane recommendation
On multiple-lane roads, COMAND can provide lane recommendation 4 for the next change of direction. Lanes may be added during a change of direction.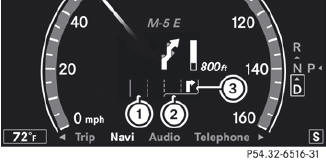 1 Uninterrupted lane
2 New lane during a change of direction
3 Lane recommended for the change of direction
See also:
Climate control
Different temperatures can be set for the driver's and front-passenger sides. - Turn the SmartKey to position 2 in the ignition lock. - To increase/reduce: turn controls 1 and 6 clockwise or c ...
Adjusting the exterior mirrors
WARNING Exercise care when using the passenger-side exterior rear view mirror. The mirror surface is convex (outwardly curved surface for a wider field of view). Objects in mirror are close ...
Parking brake
WARNING Engaging the parking brake while the vehicle is in motion can cause the rear wheels to lock up. You could lose control of the vehicle and cause an accident. In addition, the vehicle& ...