Pedestrian recognition
WARNING
Pedestrian recognition may be impaired or inoperative if:
Х pedestrians are partially or entirely obscured by objects, e.g. parked vehicles.
Х the silhouette of the pedestrian in the Night View Assist Plus display is incomplete or interrupted, e.g. by powerful light reflections.
Х pedestrians do not contrast with the surroundings.
Х pedestrians are not standing upright, for example, if they are sitting, crouching or lying down.

Animals are not recognized by pedestrian recognition.
Night View Assist Plus is able to recognize pedestrians by typical characteristics, e.g. a silhouette in the shape of a person.
Pedestrian recognition is then switched on automatically if:
Х Night View Assist Plus is activated.
Х you are driving faster than 6 mph (10 km/h).
Х the surroundings are dark, e.g. when driving outside built-up areas without street lighting.
If pedestrian recognition is active, symbol 4 appears. If pedestrians are recognized, they are framed 3 and thereby highlighted. If the pedestrian recognition system has brought a pedestrian to your attention, look through the windshield to evaluate the situation. The actual distance to objects and pedestrians cannot be gauged accurately by looking at a screen.
It may be the case that objects are highlighted as well as pedestrians.
Setting the brightness of the multifunction display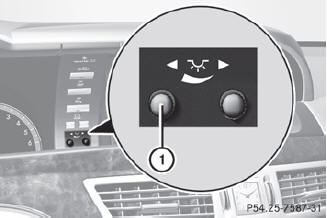 To make brighter or dimmer: make sure that Night View Assist Plus is activated.

Turn control 1 counter-clockwise or clockwise.
See also:
Activating/deactivating Lane Keeping Assist
You can use the Lane Keep. Asst. function to activate/deactivate Lane Keeping Assist or Active Lane Keeping Assist. Х► Press the button on the steering wheel to select the DriveAssist me ...
General information
WARNING All categories of messages contain important information which should be taken note of and, where a malfunction is indicated, addressed as soon as possible at an authorized M ...
Problems with the side windows
Problem: a side window cannot be closed because it is blocked by objects, e.g. leaves in the window guide. Remove the objects. Close the side window. Problem: a side window cannot be closed ...