Detecting a parking space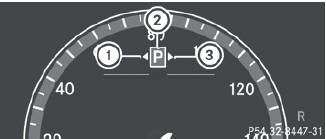 1 Detected parking space on the left
2 Parking symbol
3 Detected parking space on the right
Parking Guidance is automatically activated when you drive forwards. The system is operational at speeds of up to approximately 22 mph (35 km/h). While in operation, the system independently locates and measures parking spaces on both sides of the vehicle.
At speeds below 19 mph (30 km/h), you see white parking symbol 2 in the instrument cluster as a status indicator. Parking Guidance only shows parking spaces on the passenger side in the default setting. Parking spaces on the driver's side are displayed as soon as the turn signal on the driver's side is activated. To park on the driver's side, you must leave the driver's side turn signal switched on until you have engaged reverse gear. If a parking space is detected, parking symbol 2 changes to blue. Additionally, an arrow pointing right 3 or left 1 is shown.
Parking Guidance will only detect parking spaces:
Х that are closed in at the back
Х that are parallel to the direction of travel
Х that are at least 5 ft (1.5 m) wide
Х that are at least 4.3 ft (1.3 m) longer than your vehicle
A parking space is displayed while you are driving past it, and until you are approximately 50 ft (15 m) away from it.
See also:
Remote vehicle unlocking
If you have unintentionally locked your vehicle (e.g. the SmartKey is still in the vehicle) and a replacement SmartKey is not available, the vehicle can be opened by a Mercedes-Benz Customer A ...
Kickdown
Vehicles with an AMG engine: it is not possible to use kickdown in manual drive program M. You can also use kickdown for maximum acceleration in manual drive program M. Vehicles for USA: f ...
Refined atmosphere for maximum driving pleasure
The high-class interior - which seems even more spacious when fitted with the optional panoramic glass sunroof - makes use of new materials and colour combinations to enhance the high-class appeal ...